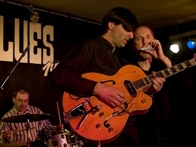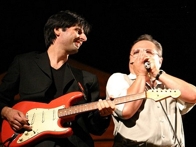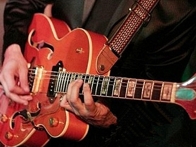 Maurizio Pugno & Bands (I)
Categorie : in italie
Genre : blues

Blues and Deep Italian Tone

MAURIZIO PUGNO is one of the finest Italian guitar players today and he has been with the Blues for 25 years!
He lives in Gubbio, a little city in Umbria with a Medieval atmosphere, but where the humid air of Mississippi has arrived at our door modified by mild Mediterranean currents.
Maurizio has long been a part of the Italian blues scene contributing his abilities and expertise to the Rico Blues Combo for the past 10 years with history dating back even further in the Wolves Blues Band prior to that.

He is known as a perfect accompanist for vocalists.
He has accompanied some of the best blues singers that have toured Europe, such notables as SUGAR RAY NORCIA, TAD ROBINSON and MARK DUFRESNE and with other great musicians such as DAVE SPECTER, MIKE TURK, SAX GORDON, KELLIE RUCKER, EGIDIO "JUKE" INGALA, ALBERTO MARSICO, RICO BLUES COMBO (with 4 cds released), MITCH WOODS, MATT LEDDY, IAN PAICE and many others.

Pugno's latest cd "That's What I Found Out", released on the American label Pacific Blues Records, produced by Jeff Scott and Jerry Hall (producers of James Harman, Kid Ramos, Mississippi Heat, Gene Taylor etc).
For this recording Maurizio collaberated with one of America's premiere blues vocalists, SUGAR RAY NORCIA, whose musical resume includes work with Ronnie Earl & the Broadcasters, Roomful Of Blues, as well as his own celebrated band, the Bluetones.
Not merely relegated to sideman duties, Maurizio generously allows room for Sugar to step into the spotlight, contributing all of the albums lyrics and vocals, in addition to supplying his masterful tone and technique on the harmonica.

Maurizio is running his own way touring around with some of the best international blues musicians.

He is available with:
MARK DuFRESNE & MAURIZIO PUGNO BAND or ORGAN TRIO
SUGAR RAY NORCIA & MAURIZIO PUGNO BAND or ORGAN TRIO
KELLIE RUCKER BAND
EGIDIO "JUKE" INGALA BAND
RICO BLUES COMBO

"...(Maurizio) Pugno displays an suprising ability for acheiving a genuine and honest guitar sound. ... note for note he can match anybody!" – Mike Turk

So…look forward to hearing a lot more from Maurizo Pugno!!


STYLE

Chicago Blues, Jump Blues, West Coast Blues, R&B, Soul, Surf, Rock & Roll.



INFLUENCES

Tiny Grimes, Jimmy Bryant, Carl Stalling, Charlie Christian, Grant Green, Lonnie Johnson, T-Bone Walker, Magic Sam, Herb Hellis, Ritchie Blackmore, Muddy Waters, Jimmy Reed, Howlin Wolf, Freddy King, Jerry Garcia, Otis Rush, Steve Cropper, Little Walter, Ry Cooder, Scotty Moore, Ronnie Earl, Hollywood Fats, Jimmie Vaughan, Henry Mancini, Duke Robillard, Amos Garrett, Earl Bostic, Hank Marvin, Teisco Del Rey, Albert King, B.B. King, Louis Jordan, Albert Collins, Nokie Edwards, Keith Richard, Roy Buchanan, Count Basie.